One of the best ways to roll out an effective culture of courageous leadership is by training all levels of the organization.
Workshops are a great way to bring engaging and relevant professional development to large numbers of your team. Integrating data-driven theory with applied practice, though experiential and challenging exercises and thoughtful and honest dialogue, participants roll up their sleeves and do the work to become braver and better both personally and professionally.
Workshops range from two-hour session to full-day intensives and are customized to be relevant and applicable for your organization.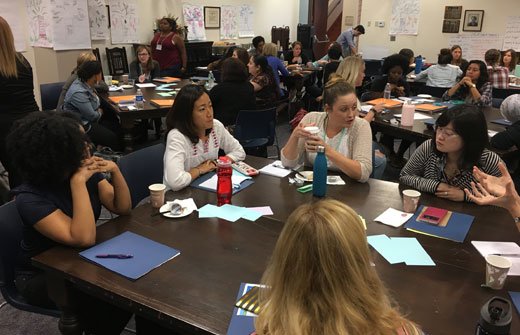 Most Requested Topics
Women and Leadership: Voice & Power
Courageous Conversations
The Real Work of Diversity and Inclusion: A Move to Belonging.
Resolving Conflict & Leading Others
Got Stress? Mindful Presence to Support Wellness
Change, Culture, and the Fear of Loss: The Real Work of Leadership
Keynotes
Keynotes are a great way to inspire action and begin the process of growth. Keynotes, while still interactive, are a chance to listen to stories, the latest trends, and best practices. You will laugh, consider, and be challenged to think in new ways.
Keynotes range from 30 – 60 minutes, include personal narrative blended with theory and will entertain and enlighten your group.
Inclusion & Belonging Work
Diversity, Equity and Inclusion is everywhere in all organizations. From large Fortune 500s to schools, from our Military to city and county offices, everyone is trying to understand how to be better at diversity, equity and inclusion.
It's not enough to simply have a diverse mix of people in your organization, we need to know how to work with that mix in a way that feels real and authentic. Yet, most of us don't have the skills to have the conversations that we need to have, and if we do, often it's the culture that doesn't support meaningful (and the often messy) discussions.
Additionally, diversity is more than race. It includes sex and gender, with a range in between. It includes religion, class, age, and the other unique identities that define us.
In order to move from diversity to inclusion to true belonging, we need to create brave spaces where people can have brave conversations. We need a framework for understanding identity–how our own identity impacts the way we move through the world and we need to offer compassion and grace as others explore their identity and the impact it has. We need to learn skills that allow us to talk about difference in real and meaningful ways and shared language and behavior so we can have conversations that matter.
This is serious and hard work, but it can also be fun and connecting work. This is work where trust is built, where creative cultures emerge, and where teams are strengthened from the inside out.
Our inclusion and belonging work integrates the Dare to Lead™ methodology as a way to get real and communicate authentically, with a group relations theory methodology that allows us to acknowledge and address issues such as power, privilege, and our unconscious bias.

Contact us to learn more about how you can bring our BETTER TOGETHER inclusion and belonging work to your organization.